CHRISTY CHUNG INTERVIEW - 4/16/97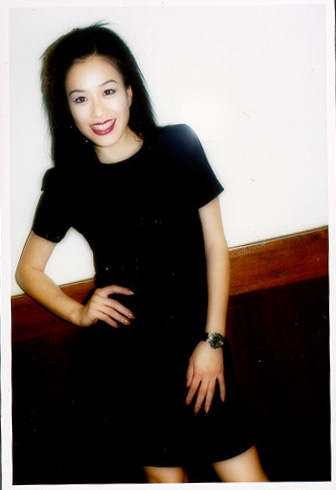 by Jeff Briggs
Christy Chung (Chung Lai-Tai) was born in Montreal in 1970. She began her rise to movie stardom when she won the Miss Montreal Chinatown Pageant in 1992, and then Hong Kong's Miss Chinese International Pageant shortly thereafter. She has over 20 films to her credit, including three with Stephen Chiau (LOVE ON DELIVERY, HAIL THE JUDGE, and this year's HK box office smash ALL'S WELL ENDS WELL '97), THE BODYGUARD FROM BEIJING opposite Jet Li, and the underrated THE BRIDE WITH WHITE HAIR 2 opposite Brigitte Lin. I first met Christy last summer in Los Angeles, and can happily report that she is friendly and personable as well as obviously beautiful. She even remembered my name from our previous meeting almost a year earlier! Although I tried to arrange a full-length interview, her schedule was too busy to accommodate one. This will have to wait for a future issue. Until now, I hope this somewhat fragmented interview gives an accurate impression of Christy's charming personality as well as a few tidbits about her background and career. Thanks to Michelle Chan for making it all happen.
GR: Your Cantonese has improved.
CC: Haih me? Really? It's really bad this morning.
GR: But in ALL'S WELL ENDS WELL '97 it was pretty good.
CC: Thanks!
GR: You were very funny in that. You also did some kung fu in it!
CC: Yes. Did you watch it in L.A.?
GR: I saw it on Chinese New Year at the Garfield Theater in Alhambra. The theater seats almost 1000 people, and they were going crazy. It was the only time I'd ever seen the theater sold out. Everybody loved it.
CC: Really? (laughs)
GR: It was good to see you back with Stephen Chiau again.
CC: Yeah, I think it was a kind of a breakthrough for me because it was the first time I had a character like that [Christy played a childlike woman with a tendency to drool and not eat her food properly].
GR: We went to the film awards on Sunday and everybody was so nice to us. We're still in shock. We got to go to Eric Tsang's birthday party and again, everybody was friendly and willing to talk to us. That wouldn't happen in Hollywood.
CC: Well, I think that being a star in my position, you shouldn't forget who the real people are and always keep your feet on the ground. You don't want to get caught in the glamorous thing, I mean, this is my philosophy…
GR: Well, and doing this stuff is your job.
CC: Exactly…and we need you as well as you need us. I need my fans and their support. If I walk on the street and let them down, then the quality of my work will go down too.
GR: You took a break from movies for a while, didn't you? That was when you were in Los Angeles last summer. Was ALL'S WELL ENDS WELL '97 your first movie back?
CC: Yes, and I'm shooting three movies right now. I just finished one yesterday at three o'clock. That's why my Cantonese is really bad this morning.
GR: What was that movie?
CC: It's a ghost story, and that was a pretty nice experience. And tonight I have to work on another movie. But it's fun, I missed that. I've been away for a couple months, and I missed being back at work and not being able to have a good night's sleep. I was really anxious. I also like being able to work with all these people again.
GR: One of the things I've always wanted to ask you is, when you entered the Miss Chinese International Pageant, had you been modeling or acting before that?
CC: No…I think in Montreal I had one movie where I was an extra…
GR: LOVE AND HUMAN REMAINS.
CC: Yes (laughs). I can't believe you recognized me!
GR: When I saw you in that I went "Oh my God!"
CC: Oh my God, because somebody told me in Hong Kong, "Hey you were in a movie in Canada," and I went "No." Then I remembered and thought oh no, don't tell me. I was so fat! It was only about two seconds. I had fun, though, and I got to work with a pretty famous director, Denys Arcand.
GR: So how did you enter the pageant?
CC: Well, actually, I had a friend who was an escort in Montreal, and he had to go to the office to pick up something, and he asked me to go with him. That day the organizer was there and she asked me to enter the pageant. And I went, "Oh, no thank you. I don't want to." "Oh no, you should go just for the fun of it." So I went, "Oh, OK then," and I tried it and it was pretty nice. I never thought I would win. OK then, the next step is Hong Kong. Wow! All I'm thinking is wow, I've got a free ticket to Hong Kong! It was the first time I was going so far away from home, alone, and the first time being able to see the world. I was not really thinking about the pageant or winning.
GR: I have seen the pageant on video, and you looked like you were just overwhelmed, like you couldn't believe this was happening. Is that right?
CC: (laughing) Yeah, when they announced me as the winner I didn't even know it was me! The girl next to me tapped me and went, "Hey, yo, it's you!" I was like, "Oh, really?" It was funny.
GR: You didn't speak much Cantonese then, did you?
CC: I didn't understand one word of Cantonese. I was so scared. It's really hard, because when you're on stage, and live on TV, and all these people talking are talking in a language you don't understand, and they are sometimes making fun of you, you just have to act like, "Oh, OK. I'm still pretty, I'm still confident, and I'm still clever!" Just keep on smiling and just pretend that you understand what they're saying!
GR: When exactly was that pageant?
CC: It was in January 1993.
GR: So when did you start making movies?
CC: My first movie was THE STING II with Andy Lau and Tony Leung Kar-Fei. It came out that summer.
GR: Really? I saw that when it first played the Chinese theaters but I don't remember you in that. The first movie I remember you in THE BRIDE WITH WHITE HAIR 2. I thought, "Wow, who was that cool girl with the arrows?"
CC: Thanks. (laughs) I think that people remember a star or a newcomer if they play an action role. I don't want to shoot a movie where I just look like a prop. So why not, if I have the ability and potential, why not do an action role?