July 30, 2000
Christy bikini wallpaper. This is a gif format photo of Christy. Just click on the small pic and then when you reach the larger pic, right click and save the picture or just go to "set as wallpaper".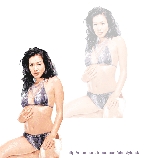 SAVE WALLPAPER HERE! 557K
August 16, 1998
Christy screenmate. This is a small box that stays on your screen where Christy blinks and makes faces at you. Just save the file and unzip it. After you unzip it, click on TPW.exe to use it.


SAVE CCTOY HERE! 220K
Christy wallpaper. This is a bmp format photo of Christy that you see on the front page of Christyland. This photo was purposely made for you to use as a wallpaper. After saving, go to your settings and set as tile


SAVE WALLPAPER HERE! 283K